Frozen Drink Machines Rentals in Virginia Beach, Norfolk, Chesapeake and surrounding areas
Planning a wedding, corporate event or party? Rent our frozen drink machines! Multi-day packages available!
Frozen cocktails are the perfect for summer time functions, BBqs and parties. Enjoy frozen drinks without needing ice or staffing the blender all day long! Whether its a slushie machine or margarita machine you seek this is where you want to be!The Bunn Ultra makes perfect slushie, frozen margaritas, pina coladas, strawberry daiquiris or any other drink you desire all day long. Its super easy and we provide the delivery and pick up. Hello, easy button!
Double Bowl Frozen Drink Machine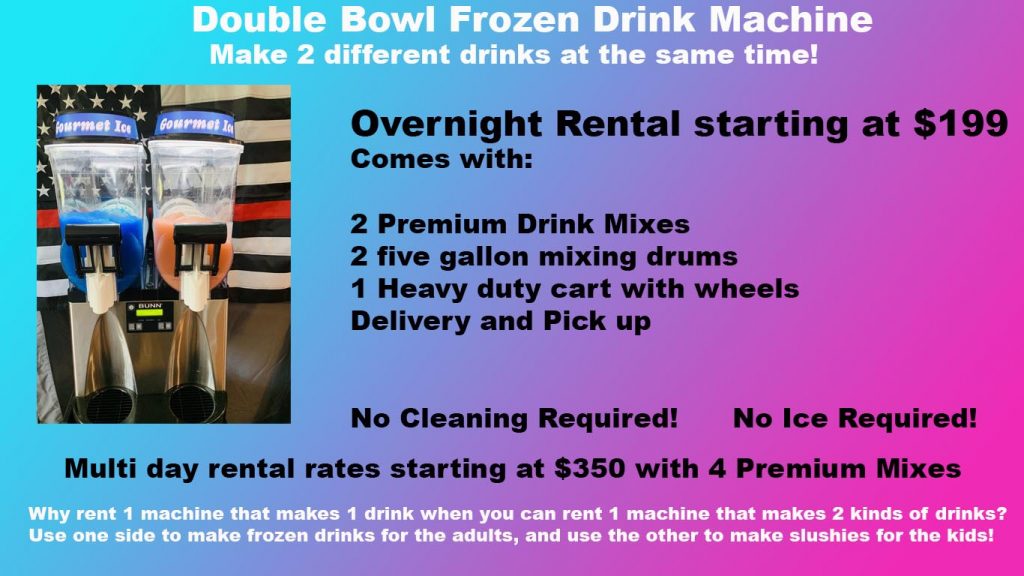 Specifications:
Additional drink mix flavors are $30 each

Frozen drinks can be made with or without alcohol

Easy to use 

Complimentary set up and drink preperation
Premium Drink Mix Flavors
Our vendor for drink mixes, Swirled Ice,  is committed to quality and we have been using them for years. There is a big difference when it comes to who is manufacturing  the flavors and we are proud to stand with Swirled Ice.
Premium Frozen Drink Flavors
Premium drink flavors are $30 each
The most popular flavors are Margarita Gold, Strawberry Daiquiri and Pina Colada
Flavors with * make 5 gallons, all others make 3 gallons
5 Gallon mixes make approx (80) 8 0z servings, 3 gallon mixes make approx (48) 8 oz servings
All mixes are non-alcoholic, but alcohol can be added
Renter is responsible for the purchase and addition of alcohol
Bar Mixes:
Margarita Gold w/Triple Sec*, Lime Margarita*, Mango Margarita*, Strawberry Margarita*, Hurricane*, Mudslide*, Peach Bellini*, Rum Runner*, Sangria*, Pina Colada, Strawberry Daiquiri, Banana Daiquiri, Cosmopolitan, Blue Hawaiian, Fuzzy Navel, Mai Tai, Mimosa, Mojito.
Fruit Flavors (3 gallon mixes):
Banana, Berry Punch, Black Cherry, Blue Coconut, Blue
Hawaiian, Blue Raspberry, Cherry, Cherry Limeade, Grape, Green Apple, Hawaiian Fruit Punch, Kiwi Lime, Lemonade, Lemon Lime, Mango, Melon, Orange, Orange Mango, Orange Dreamsicle, Peach, Pina Colada, Pineapple, Pink Bubble Gum, Pink Lemonade, Strawberry, Strawberry Banana, Strawberries & Creme, Strawberry Kiwi, Watermelon, White Cherry.
Other Flavors
Cappuccino, Mocha Cappuccino, French Vanilla Cappuccino, Cola, Sugar Free Margarita Gold, Rush- Energy Slush Drink (made with flavors and ingredients found in popular drinks like Red Bull and Rockstar).
Single Bowl Frozen Drink Machine
Call now to rent (757) 375-1251
Serving Virginia Beach, Norfolk, Chesapeake and surrounding areas.
Weddings

Church functions

Birthday parties

Corporate events

Anytime you want to have FUN!
"We rented a dual bowl margarita machine from Dan for a "Derby/ Cinco De Mayo" fundraiser and the margaritas were the most popular drink we served! Even though we also had beer, wine & bourbon...we went through 4 margarita mixes and 24 bottles of tequila! They were so delicious, everyone loved them! Dan is great!! He was very responsive from the beginning, prompt and friendly. I highly recommend Life of the Party and we have already secured them for next year too!"